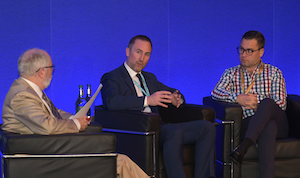 In a business update Comms Vision delegates learned that CityFibre's integration of Entanet, acquired in July 2017, is gathering pace with the wholesale arm's livery soon to be retired as the Group continues to centralise and retain its disruptive entrepreneurial spirit, which is a key ingredient in achieving its ultimate purpose to disrupt the status quo.
To accelerate its vision CityFibre kicked off an industry consultation in October aiming to more clearly define the role of alternative full fibre infrastructure builders in aiding the switchover of customers from legacy copper networks to fibre. 
As part of the consultation CPs can identify the provisions required to support all legacy services on the new networks, what the process should be for the mass migration of customers, and what steps are needed to ensure straightforward switching for consumers.
The initiative was triggered by a key phase in CityFibre's Gigabit City roll out in Stirling, which will be ready for a copper to fibre switch over next summer.
"We all have a responsibility," stated Andy Wilson, CityFibre's Head of Wholesale. "The more organisations driving this the better." 
As it turns up the volume on its demand for greater competition CityFibre continues to work with Ofcom and Government as well as peers to sidestep barriers to growth, including areas such as wayleaves and the scope for full fibre providers to engage in overbuild, a scenario which could mean that full fibre would appear across just 30% of the UK.
"There is more momentum at local and central level to do address the issues," added Wilson. "This will start to accelerate over the coming year."
That is not all. It is increasingly clear that business growth moves fast once full fibre has been embraced, according to Paul Anslow, Managing Director of south west based Triangle Networks, a CityFibre regional partner.
It had become clear to Anslow that CityFibre's whole city approach – based on a build once build well rulebook - comprising one network ecosystem provided an opportunity not to be missed.
"We needed to do something different," he said. "With full fibre, we had a new product and as CityFibre's profile gained traction we grew alongside the greater awareness. 
"We are focused wholly on full fibre services now, and have not installed ISDN30 for two years nor a phone system for four years. 
"Although still a small business we do have a role to play, and have found our niche in the ecosystem. We plan to be in 10 locations with CityFibre across the country and provide services to more smaller companies." 
CityFibre's opening gambit in the market hinged on working with a set of local partners, such as Triangle, wanting to grasp the potency of full fibre, on an exclusive basis. 
In a bid to advance further towards the UK's digital golden age the company has now adopted a full channel approach, with no exclusivity and with a carrier interconnect route to market. "We are seeking highly motivated regional partners," added Wilson. 
Pictured: Andy Wilson and Paul Anslow