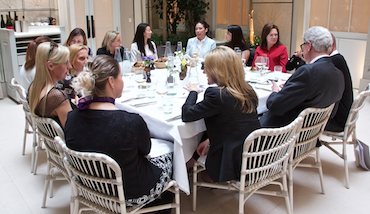 The proportion of male to female leaders in the comms sector screams of an alarming gender imbalance that can only impede the industry's progress and prospects, according to a frank debate on the issue last month (hosted by 9 Group in association with Comms Dealer) that aimed to reset the gender diversity agenda.
The comms industry has long been regarded as one of the most male dominated sectors in the UK. But while its boardrooms are in the main disproportionately populated by men, any male bias is not consciously induced, rather the occupational hangover of how the sector began life. It's a legacy that prevents male orientated businesses from achieving their growth and cultural potential, which would otherwise be fuelled by the influence and unique qualities that women have to offer.
Today, few women break the net and rise through the channel's ranks, and the sector's response to this gender disparity has been limited, to say the least. "Examples of success in the industry are typically male," observed Elsa Chen, CEO, Entanet. "As an industry we need to address this imbalance, to share and embrace a different success model that women can bring. The question is - how do we break the mould?"
The solution is manifold and will depend not only on the will of male leaders in the industry to catalyse change, but also on the inner resolve and self-confidence of females themselves. "As women we have a responsibility and duty of care to one another, and to the younger generations, to show the industry how much better and more successful our businesses and relationships can be," stated Anna Roper, Head of Sales, 9 Group.
The discussion put a spotlight on the potential for women to add significant value to their business in terms of revenue generation. One reason is because wherever an ICT solution is required, buyers who engage with true consultants will be most open to temptation, and anyone who knows the qualities that women bring to the table will attest to their innate ability to conduct effective consultancy, noted Joanne Palmer, Group Legal Director, 9 Group.
'As an industry we need to address this imbalance, to share and embrace a different success model that women can bring. The question is – how do we break the mould?'
"As the market becomes less driven by price and more solution-led, women are in a strong position because of their communication skills and tendency to be empathetic," she said. "Women can provide a solution and increase turnover. We need to educate male industry leaders on reasons to recruit females. We need to showcase the qualities that women bring."
Nothing would signal more clearly a change of direction than for incumbent male leaders to clear their ground of the gender disparity that has become a defining factor of the industry, and seek a balance. It will be better for all. "Why are so many male bosses appointed?" asked Chen. "It's because the industry's unconscious bias of what 'good' looks like is a male model. We should go beyond gender and question whether being female equates to being a lesser leader. In reality, gender makes no difference in being better or worse. The key is to understand that a different style of leadership can equally bring success. The industry should embrace this and create an environment to make it happen."
'Clearly, the era of male domination within the comms sector must come to an end, and a cross-industry consensus is needed to redress the endemic gender imbalance. To do nothing is folly.' 
The role of education in changing the course of the industry's gender related history cannot be overstated. "Women need to see females running things, not just men," stated Palmer. "This is the crux of the education piece that must be advanced, along with showing men the qualities that women can bring to a market that is no longer about price, calls and lines."
An aspect of this value was emphasised by Dalycom Managing Director Amanda Daly, who says traditional 'product' selling is deficient in today's solution-led environment. She outlined how women can leverage their natural communication skills to great advantage. "Females are about what we can offer and how we engage with and help businesses with their problems. I never sell products. I sell benefits and the relationship. It's about the business pain and finding a way to fix that. You are the problem solver, it's not about the IT."
Clearly, the era of male domination within the comms sector must come to an end, and a cross-industry consensus is needed to redress the endemic gender imbalance. To do nothing is folly. "Women leaders have influence in their organisations and can give female staff the confidence to apply for internal positions they may have thought beyond their reach," added Chen. "Generally, we need a deeper pool of female candidates. Education is a huge driver for change."
Michelle Jones, VP of Global Marketing at Unify, cautioned that to showcase only the outstanding women in the industry may not necessarily encourage other females who might be daunted by the scale of their achievements. "Women generally are not egotistical nor overflowing with the confidence that ego engenders - we come with different qualities," she stated. "So we need to elevate as many successful and inspirational women at different levels as possible, not just the uber-successful, to create awareness and conversations about what they bring to an organisation. We also need a mix of male leaders who advocate diversity in their team. And more mentors to develop individuals on the job."
All agree that it's time to champion gender equality against historical attitudes and hierarchies, and establish proportionality. The good news is that the sector is not calculated to exacerbate the issue. "I've not experienced discrimination," noted Chen. "The industry is mostly misconceived by women as uninteresting, and this is also reflected by the gender imbalance."
'We need to elevate as many successful and inspirational women at different levels as possible, not just the uber-successful, to create awareness and conversations about what they bring to an organisation.' 
The word 'imbalance' is really a euphemism for deep rooted gender inequalities that have existed since the dawn of the industry. And that the issue is not confined to the comms sector is beyond doubt. You only have to consider the widely used term 'who wears the trousers' to see that - the item of clothing of course denoting who's 'boss'. But continuing in this vein could hardly be more counter-productive and has no conceivable interest for a male dominated industry in need of reform.
Take women working in the comms industry who have babies: Their broken career path reflects the extent of the issue. Do women really need sending home for good? "A big cost to businesses is women leaving to have a baby, and during this time they may lose the confidence to return to work," said Palmer. "But we are in the midst of a new technological era with the Internet and workplace flexibility, meaning more women can work from home and still be valuable to the business. Females need flexibility to mange their children. Through technology, women lost to the industry could come back."
The comms sector is now on trial and much rests on the shoulders of males in boardrooms and the small pool of current women leaders with the power to help bring about a gender equilibrium. For Daly, a substantial part of the winning formula resides in self-determination. "What is it that has taken us forward in this industry?" she asked round table colleagues. "All of us would say 'bring it on!'. But how do we get that fighting spirit into other women? For many it involves courage, drive and being told you can't do something."•
BITES FROM THE TABLE...
Our industry is dominated by men, but so are others. It's about leadership. Gender doesn't make you a better leader. I've worked with inspirational men and women. They are human beings first and foremost.
Sue Kempton, MD, Windsor Telecom
Some male customers have a 'yes dear' approach to me, but they will happily speak to sub-manager level males in my business and sign deals. I don't explain who I am because I'm not egotistical.
Vanessa Spain, MD, Zero 7
I speak at schools to raise awareness about what the industry has to offer both males and females. They know about technology and its capabilities, but less than a handful show any interest in a future ICT career.
Lorrin White, MD, Bamboo
The gender diversity issue is not about women being better than men. We're not. But we do have a lot to bring to the table and naturally look for solutions to help the industry grow and develop.
Giovanna Jagger, Director, Sprint
Where there is a glass ceiling and females are unable to progress their careers further there is only so many times they will try. If that's the corporate culture, it filters throughout the company.
Amy Mitchell, MD, TinCan Comms
Rather than contrasting males and females, the industry needs to create opportunities for men and women. Younger people should have an entrepreneurial opportunity in the industry regardless of their gender.
Louise Abbey, Head of Marketing, 9
We need to elevate as many successful and inspirational women at different levels as possible, not just the uber-successful, to create awareness about their success and what they bring to an organisation.
Michelle Jones, VP Marketing, Unify
We have an obligation to nurture and encourage ambitious females within our own organisations. And it would be great to engage more with schools to show that ICT is an exciting industry for all genders.
Tara Kelman, Commercial Analyst, 9
Comms industry diversity campaign kicks off
Taking action on an issue as sensitive as gender diversity can create waves and could even make things worse. After all, as one attendee commented at the round table discussion, 'We're all human beings, aren't we?'. It is abundantly clear however that a gender imbalance problem in the ICT industry has been identified.
To quote Louise Gulliver, Managing Director of Professional Development and Membership at the IoD: "A lot of progress has been made in terms of the representation of women in the workplace over recent decades, including at board level of the UK's largest companies. However, improvements have not necessarily been equal across sectors. Indeed, it is apparent that latent barriers to women's success persist in the ICT sector."
There you have it. Something clearly must be done. So, with the valued help of companies like 9 Group, plus the support of our round table guests and we hope many others, we aim to build momentum. Comms Dealer will commit to supporting the following via regular coverage and special features on: 
•The launch and subsequent actions agreed by a proposed 'Changing the Face of ICT' Forum.
•Initiatives designed to encourage school girls to look at ICT as a diverse, dynamic sector in which to start and build a career.
•Positive moves to stamp out gender stereotyping in the industry.
•The lobbying of relevant Government institutions to create a Women in ICT Charter which companies can sign up to.
To address the 'role model' issue Comms Dealer will produce regular articles on inspirational women across the industry and also introduce a Diversity Award at the Comms National Awards. We hope to get people thinking seriously about this key issue.•
Report confirms that women execs create more value
How well a company performs is directly linked to the proportion of females occupying senior management roles, according to a McKinsey report (Delivering through diversity) published in January 2018. 
The study correlates gender diversity with both profitability and value creation, and found that UK businesses in the most gender diverse quarter are 15 per cent more likely to experience above-average profitability than organisations in the fourth quartile. 
The report also confirmed that executive teams of outperforming companies have more women occupying line roles versus staff roles. 
Tech sector continues to lack female workers
The UK tech sector employs far less women than most other industries. Just 17% of the workforce is female. 
Even worse, a European Commission study published last month entitled Women in the Digital Age found that there are four times more men than women in ICT-related studies, and reported a drop in the number of women taking up ICT related higher education compared to 2011. 
The study also calculates that the European economy is worse off to the tune of circa 16.2 billion euros due to women leaving their digital jobs. 
If you would like to showcase the success of an unsung female in your business please email sgilroy@bpl-business.com