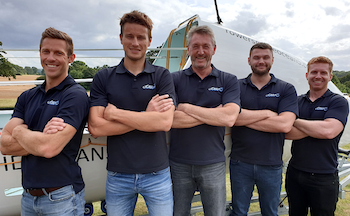 ITS Chairman Kevin Gaskell (pictured centre) along with four other oarsmen, known as the Ocean5, smashed the Atlantic rowing world record for a team of five by almost 24 hours. 
They set off on December 12th from the Canary Islands and arrived in Antigua on January 17th having rowed 3,000 miles. 
The epic journey, which took 35 days 19 hours and 50 minutes, raised more than £100k for the Plastic Soup Foundation, a charity that fights against the build up of plastics in oceans.
Gaskell stated: "The guys rowed around the clock, staying within the confines of the 28ft x 5ft wide rowing boat. It wasn't all plain sailing, we encountered sharks, storms and capsized."
Gaskell took on the challenge with his son Matt, who are no strangers to extreme expeditions having completed a 190 mile trek to the south pole in 2008 to raise funds for cancer research.