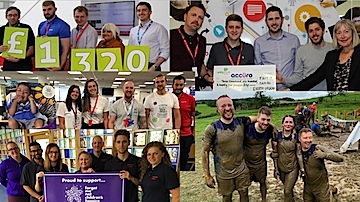 Exertis employees have raised over £12,600 for a variety of local charities during July and August. The money has been raised through events organised by members of the Exertis UPGRADE trainee management programme and held by teams in Basingstoke, Harlow, Burnley and Elland.
Paul Bryan, Exertis UK&I, MD, said: "This is a fantastic achievement by our employees who have organised events in their own time with local charities of their choice. 
"From family fun days and casino nights to cake sales, raffles and auctions, I am proud of our employees for their efforts for such worthy causes."
Donations were given to Naomi House & Jacksplace, Derian House Children's Hospice, Forget Me Not Children's Hospice and Accuro.