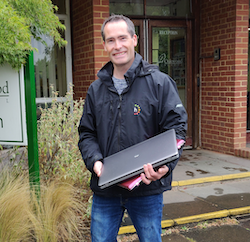 A scheme to provide IT-lite school kids with technology that will enable them to study from home has been launched by Highlight Product Director and Horley Town Councillor Martin Saunders.
He is seeking volunteers to spread the Level Up appeal which has so far received 180 donated laptops from both businesses and individuals for disadvantaged children in Horley to keep permanently. 
"The 'new normal' for school children today and in the future includes the flexibility to learn at home using online resources," said Saunders.
"Unfortunately, some families cannot afford IT equipment to support their children studying at home, and these disadvantaged children are missing out." 
 
Despite the work of Highlight, many children in Horley and across the UK are left without the facilities to properly further their education. 
Saunders hopes volunteers will come forward to take the project to other areas.
"We are making great progress and the generosity of everyone involved has been overwhelming," he added. 
"However, we've some way to go to ensure every child has access to the technology they need." 
If you have a working laptop to donate, please contact Martin on https://www.facebook.com/LevelUpLaptopAppeal or email Martin at  martin.saunders@horleysurrey-tc.gov.uk