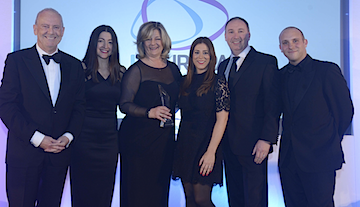 IT Europa has announced the winners of the European IT & Software Excellence Awards 2015 - the pan-European awards event for ISVs, Solution Providers and Systems Integrators and their vendor and distributor partners. The finalists were honoured last night at a celebration dinner at the London Lancaster Hotel.
The 2015 European IT & Software Excellence Awards saw a return to confidence in the industry, with some of the highest scores ever recorded by the judges. Now in its seventh year, there were notable triumphs for companies from across Europe with projects ranging from an open-source solution saving money in the UK's NHS to automatic fare collection in Minsk. Winners were chosen from 83 finalists who represented 32 countries.
Cloud technology figured strongly, particularly when projects had to consider global operations such as a notable win for a recruitment specialist project. Many of the projects were able to save considerable amounts of time and money for clients, such as the winner who sorted out unstructured data at charity Save The Children.
"There were some absolutely terrific solutions among the winners, and really, looking at the quality of the hundreds of entries we received, these were just the tip of an iceberg," says John Garratt, chair of the judges panel.
"The European IT industry should feel proud of what it is offering clients in a time of great change in terms of available technologies, range of solutions, and in how it is selecting from the vast array of solutions out there."
Alan Norman, Managing Director of IT Europa said: "The overall quality of entries, from what was a record entry this year, was extremely high and demonstrates the depth of talent in the ISV and Solution Provider communities across Europe. I congratulate all the winners and wish them and all the finalists every success in the year ahead."
Pictured above: EMC collects the Technology Vendor of the Year Award
Solution Provider Category
SME Solution of the Year - Enterprise Study
Enterprise Solution of the Year - Green Fields Technology
Datacentre Solution of the Year - TechMahindra
Vertical Solution of the Year - IBA Group
Public Sector and Utilities Solution of the Year - BJSS
Managed Services Solution of the Year - Interoute
Connected/Mobility Solution of the Year - AirWatch by VMware
Storage/Information Management Solution of the Year - BrightStarr
Big Data, Business Intelligence and Analytics Solution of the Year - Northdoor
Networking Solution of the Year - Bell Integrator
Security Solution of the Year - SoftServe Inc
ISV Categories
ERP/CRM/Relationship Management Solution of the Year - LIFE IS HARD
Information & Document Management Solution of the Year - DocLogix
Big Data, Business Intelligence and Analytics Solution of the Year - Kazoup
Connected/Mobility Solution of the Year - Arkessa
Vertical Market Solution of the Year - PureNet
Government/Utilities Solution of the Year - UNIT4
SaaS Solution of the Year - Vecta Sales Solutions
Software Innovation Solution of the Year- Sequel Business Solutions
Supplier Categories (recognising the support provided to channel partners)
Connected Technologies Vendor of the Year - Emulex
Technology Vendor of the Year - EMC
Finance/Support Provider of the Year - BNP Paribas Leasing Solutions
Security Vendor of the Year - Centrify
Service Provider of the Year - Genius Networks
Software Vendor of the Year - Nexenta Systems
Distributor of the Year - Avnet