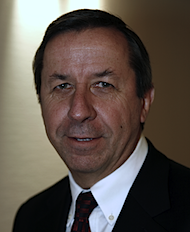 The Global Technology Distribution Council (GTDC), an industry body focused on promoting the role of wholesale ICT distribution, has embarked on a campaign to raise the profile of distributors and their evolving role at the vanguard of technological advancement using case studies, white papers and social media.
The initiative reflects the emergence of a 'new distribution model' and will be supported by research and analysis conducted by Comms Dealer sister comany IT Europa which has identified significant shifts in the products and services being offered by Europe's leading distributors.
"As end-user market demand for cloud-based solutions and managed services grows, distributors are adapting their business models and developing new services to support channel partners," stated IT Europa MD Alan Norman (pictured).
"The emergence of new technologies such as Artificial Intelligence and the increasing demand for mobility and the integration of technologies to support digital transformation are further fuelling such changes.
"There has been a sea change in the way two-tier channels work in recent years, and we have seen in our research of European VARs, integrators, MSPs and other channels that they are adopting a more value-conscious, services-led approach, using their technology skills and market understanding to create and drive new propositions in the channel."
According to Norman 'distribution has stepped up a gear' to meet these challenges, and the IT industry and its components should respond to this and take advantage of what is now on offer.
"The scale and speed of this move is clearly visible in the additional offerings being made by the distributors, but not all channels and vendors are fully aware of the "New Distribution" models that are emerging," he added.
In response to increased demand for newer technologies such as cloud, IoT, mobile, and Big Data, distributors are investing heavily in new programmes and processes to efficiently bring those technologies to market, pointed out GTDC CEO Tim Curran.
He believes that some HQ senior executives may not understand how the channel and distributors can play a role in cloud for example, although those downstream, the channel leaders, typically do understand the deeper value and potential of these relationships.
"They work directly with distributors and see first-hand how partners strongly prefer their services. We want to help the upper senior management realise and support related advances," said Curran. "Europe's distributors are resilient, diversified and innovating, and the IT industry's partners of choice."
GTDC members drive more than $130bn in annual worldwide sales of products, services and solutions through business channels.