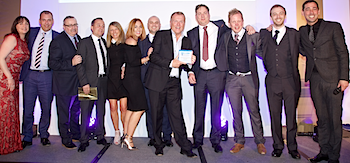 This year's sparkling Comms Dealer Sales & Marketing Awards extravaganza (staged at London's Park Lane Hotel on May 4th and sponsored by KCOM) reflected the growing strength of the channel's sales organisations with more entries than ever mirroring a 25% increase in the scale of the event itself on last year.
Hosted by Radio 5 live's Colin Murray the awards luncheon celebrated the top revenue generating teams from the distribution, vendor and reseller sectors of the channel.
Stand-out winners were Entanet and Provu which both scooped a brace of awards and Pure Telecom which collected a Sales Team of the Year gong along with the coveted overall Comms Dealer Channel Team of the Year award (pictured above).
This year's event also saw the debut of two new awards, Best Apprenticeship Scheme and Best Company to Work For, picked up by Lily Comms and Berry Telecom (pictured below) respectively.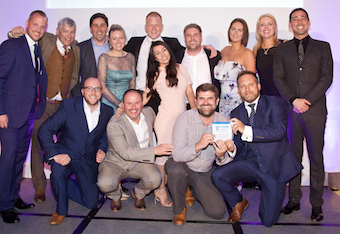 "Channel sales are as good as they have ever been as the record breaking Comms Dealer Sales & Marketing Awards has underlined," stated Comms Dealer Editorial Director Nigel Sergent.
"All of our finalists are to be congratulated on their achievements and deserve wide recognition for their hard work."
Awards judge Lee Shorten added: "Entries this year were exceptional. The quality and breadth of the submissions has shown me that channel companies are upping their game and developing top notch sales and marketing teams which are ignoring the economic news and smashing targets via resilient selling and creative marketing."
COMMS DEALER SALES AWARDS 2017 WINNERS
Best Partner Or Customer Portal - Daisy Wholesale
Best Partner or Customer Event - Gamma
Reseller Best Marketing Campaign - Cisilion
Reseller Sales Team of the Year with a turnover of above £5m - SWComms
Reseller Sales Team of the Year with a turnover between £2.5m & £5m - Exsel Group
Reseller Sales Team of the Year with a turnover up to £2.5m - Pure Telecom
Best Vendor Partner Programme - TeleWare
Vendor Channel Marketing Campaign of the Year - Union Street
Vendor Channel Marketing Team of the Year - Entanet
Vendor Channel Sales Team of the Year - Entanet
Service Provider Channel Marketing Campaign of the Year - Assembly Channel Services
Service Provider Channel Marketing Team of the Year - Fidelity Group
Service Provider Channel Sales Team of the Year - Channel Telecom
Distributor Channel Marketing Campaign of the Year - ProVu Communications
Distributor Channel Marketing Team of the Year - Pragma
Distributor Channel Sales Team of the Year - ProVu Communications
Best Company to Work for - Berry Telecom
Best Apprenticeship Scheme - Lily Comms
The Comms Dealer Team of the Year - PureTelecom