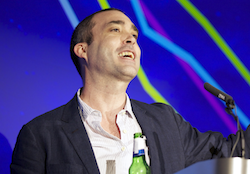 The line-up of finalists for this year's Comms Dealer Sales Awards (Café De Paris, London, May 7th) has been announced following a rigorous judging process. This must-attend event (headline sponsor Eclipse) recognises and applauds the creme de la creme of the ICT industry's revenue generating stars who have greatly excelled in their profession during the past year.
"We call on the industry to come and celebrate the success of our finalists and ultimately our winners at this year's awards ceremony luncheon," enthused event organiser and Comms Dealer Editorial Director Nigel Sergent.
"Whether you are a vendor, distributor or a reseller in the channel don't miss this unique opportunity to share the success of your partners and peers and network with industry friends and colleagues at one of the most motivating and fun events in the channel calendar."
Pete Tomlinson, Director of Sales, Marketing and Product at headline sponsor Eclipse (pictured above delivering the 2014 Sales Award keynote), added: "The ability of our sales and marketing teams to create value in our own businesses and to change the lives of our customers is unparalleled, yet all too often this goes unrecognised.
"These awards ensure that this is no longer the case and recognise the skills and commitment of the most talented people in what is now a true profession. I am delighted to be part of celebrating this success with Eclipse as headline sponsors."
To book your table or individual place please contact Simon Turton - simon@bpl-business.com 01895 454 603, or Claire Hatchett - chatchett@bpl-business.com 01895 454 476
THE COMMS DEALER SALES AWARDS 2015 SHORTLIST
Reseller Sales Team of the Year up to £2.5m
Dataphone
Exsel
LDD Group
Lilly Comms
Nexus IP
Reseller Sales Team of the Year £2.5m-£7m
Nix
Uplands Mobiles
Berry
Greenfields
Imerja
Reseller Sales Team of the Year £7.5m plus
Focus Group
Elite Comms
IP Solutions
Olive Communications
Reseller Best Marketing Campaign
Calyx
Lilly Comms
Olive Communications
T-TECH
Service Provider Channel Account Team of the Year
Channel Telecom
Comms-Care
Coms
Fidelity Group
Frontier Voice & Data
GCI
Node4
Vaioni Wholesale
Zest 4
Service Provider Channel Marketing Team of the Year
Channel Telecom
Comms-Care
GCI
Voiceflex
Service Provider Channel Marketing Campaign of the Year
Channel Telecom
Frontier Voice & Data
ICUK
Voiceflex
Distributor Channel Account Team of the Year
Daisy Distribution
Exertis
Nimans
ProVu
Siphon
Westcon
Distributor Channel Marketing Team of the Year
Pragma
Westcon
Siphon
Nimans
Distributor Channel Marketing Campaign of the Year
Ingram Micro EU
Nimans
Pragma
Westcon
Vendor Channel Account Team of the Year
8x8
Ebillz
Entanet
Gamma
Jabra
Union Street
Virtual 1
Vendor Channel Marketing Team of the Year
Entanet
TMS
Virtual 1
Union Street
Vendor Channel Marketing Campaign of the Year
BT Wholesale
Cisco
Entanet
Jabra
Union Street
Virtual 1