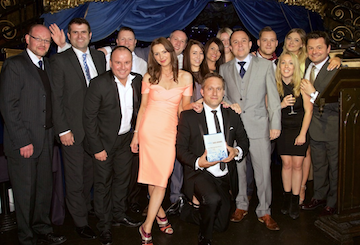 The industry's most prestigious sales awards event staged at the Cafe de Paris (London on May 7th) has recognised and rewarded the best sales and marketing teams in the comms channel. Hosted by TV presenter Chris Hollins (2009 Strictly Come Dancing winner) the awards luncheon celebrated the top revenue generating teams from the distribution, vendor and reseller sectors of the channel.
Stand-out winners were Berry Telecom which secured a brace of awards including the coveted Comms Dealer Sales Team of the Year accolade (pictured).
Comms Dealer Editorial Director Nigel Sergent said: "Channel teams that truly understand the needs of customers and shown innovation in their approach to sales impressed our judges most. Real success is only achieved through teamwork, and having seen every entry that was passed onto our esteemed panel of judges, I am fully aware of the work put into these awards and the quality of the submissions has been amazing.
"All of our finalists are to be congratulated on their achievements and deserve wide recognition for their hard work."
For more information on this year's Sales Awards please visit www.cdsalesawards.com

COMMS DEALER SALES AWARDS 2015 WINNERS

DISTRIBUTOR CHANNEL ACCOUNT TEAM OF THE YEAR
EXERTIS
DISTRIBUTOR CHANNEL MARKETING TEAM OF THE YEAR
SIPHON
DISTRIBUTOR CHANNEL MARKETING CAMPAIGN OF THE YEAR
PRAGMA
VENDOR CHANNEL ACCOUNT TEAM OF THE YEAR
VIRTUAL 1
VENDOR CHANNEL MARKETING TEAM OF THE YEAR
TMS
VENDOR CHANNEL MARKETING CAMPAIGN OF THE YEAR
UNION STREET
SERVICE PROVIDER CHANNEL ACCOUNT TEAM OF THE YEAR
FIDELITY GROUP
SERVICE PROVIDER CHANNEL MARKETING TEAM OF THE YEAR
CHANNEL TELECOM
SERVICE PROVIDER MARKETING CAMPAIGN OF THE YEAR
VOICEFLEX
RESELLER SALES TEAM OF THE YEAR WITH A TURNOVER UP TO £2.5M
EXSEL
RESELLER SALES TEAM OF THE YEAR WITH A TURNOVER BETWEEN £2.5M & £7.5M
BERRY TELECOM
RESELLER SALES TEAM OF THE YEAR WITH A TURNOVER OF OVER £7.5M
FOCUS GROUP
RESELLER BEST MARKETING CAMPAIGN
OLIVE COMMUNICATIONS
COMMS DEALER SALES TEAM OF THE YEAR
BERRY TELECOM