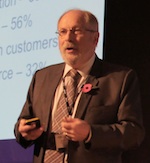 This year Comms Vision explores the impact of the Digital revolution and how it is transforming the comms channel. Such 'Change is Good', writes Content Director John Chapman, who outlines the many ways in which this industry-leading event has tracked change, and helped delegates to chart a new course for their businesses through strategic change management.
In the mid 1980s I attended a week-long intensive management training course delivered by Price Waterhouse, and I remember when completing the course questionnaire about how useful the course had been, writing down 'You allocated only half an hour on Wednesday afternoon to change management. Change Management is all I ever do!'. For anybody in the comms channel, over the last few years this cry has echoed a hundredfold.
But that has not always been the case. When we were debating the idea of Comms Vision and whether the comms channel would be interested in an event that looked to the future and the likely changes afoot, we decided to do some intensive research on the channel and its vendors and service providers. The feedback we got was not encouraging.
The main comment was that little had changed over the last 15 years and that any change would happen over the long-term with a slow evolution. Vendors and service providers however were keen on such an event as they saw massive change coming and felt the channel to be totally unprepared for the level and speed of change. Thus Comms Vision was born.
We were clear from the very start that Comms Vision was not about disseminating tactical product knowledge and providing a shop window for new products as most industry events are. With a target delegate audience of channel CEOs and senior directors we deliberately separated the content into open sessions with a focus on the future and market evolution, with business focused Boardroom style sessions and one-to-one meetings where sponsors and delegates could get down to building relationships at the highest level. The formulae has stood the test of time as we are now in our ninth year and the feedback from delegates and sponsors gets better each year.
Such positive feedback affirmed that the future of Comms Vision was not going to be just about the content and the business networking, it was going to be about helping delegates understand that change is good and by first changing their thinking they could plot a successful future without endangering their existing business.
It was this change in thinking that was going to be the key: 'The world as we have created it is a process of our thinking. It cannot be changed without changing our thinking', said Albert Einstein. This revelation helped us structure the content over the years adding in many external speakers who could stretch the way delegates think and see their challenges among a much broader evolving business world.
Over the years we have covered many technology changes - the evolution from the traditional TDM-based PBX through IP Telephony, virtualised architectures, hosted telephony and cloud-based UC. We have charted the move to a software led world through soft PBXs, integrated CRM applications, mobile and M2M applications, Big Data analytics and social collaboration.
Most importantly through presentations and debate we addressed how the channel needed to evolve their businesses not only to survive but to grow and develop to be leaders of the future. Through sessions on managed services, creating a value chain and competitive advantage to understanding business transformation and true customer satisfaction and experience, Comms Vision has helped change the thinking of some of the UK's finest business minds. The results of which can be seen by the make-up of delegates over the last few years.
Quite a few of the delegates from the first few years are no longer in the business having chosen to sell their company or their customer bases, preferring to take early retirement rather than tackle the enormous changes they could see coming. We have also seen many mergers and acquisitions as delegates got together over Comms Vision and decided to combine their skills and knowledge to give themselves a better fighting chance in this new comms world.
Most intriguing have been those organisations who have changed and evolved to meet the challenge. Some have done this through their own resources, taking time to develop new skills and expertise, others have gone with a big bang approach raising funds to create scale by acquiring skills and organisations and accelerating the pace of change.
For all these organisations the challenge has been huge not only in acquiring new technical and software skills but most importantly in developing sales organisations capable of talking to the new types of customers about business topics rather than just features and benefits.
Tony Parish, CEO of G3 Comms, offers an insight into the scale of this challenge: "In my years in comms, there have been in my view two or three waves of change in our industry - analogue to digital, digital to IP, now IP to SIP. The changes are becoming more complex and challenging to traditional comms businesses. In the past we have had to retain our people for the changes, this time I believe that we need to re-engineer our businesses altogether. On the back of a global financial crisis that has challenged our industry, we have had this radical change in the technology that we sell. These are testing times!"
Comms Vision may not be able to take the credit for the incredible change and prosperity of today's comms channel because what is needed to drive through change in any business is down to the bravery, enthusiasm and skill of the directors. However, I am confident that Comms Vision has had a great influence in changing the way business leaders now think about how to develop their businesses.
Stephen Dracup, Managing Director of Chess Telecom, commented: "Attendance at Comms Vision has always been valuable as it allows me to get to meet many of the key people and vendors in our space without having to visit them all separately. We have also found the guest speakers especially useful. Implementing some of the ideas discussed at Comms Vision has added value to our business.
"In particular, in 2012 we implemented energy and attitude scoring for all our people, revolutionising our recruitment and 121 processes. Last year, after the sessions on social communications, we rolled Yammer out to all our businesses significantly improving both internal communication and engagement."
Brendon Cross, Managing Director of Oxon-based STL Communications, is also an enthusiastic supporter of Comms Vision. "STL is a progressive, innovative and forward thinking communications services provider and over the years Comms Vision has had a major influence on many of the decisions we have made in the business," Cross commented. "Comms Vision has also provided confirmation that we are on the right track at STL, most notably with regard to SIP-ISDN replacement and hosted telephony, both of which are now the strongest growing areas of our business.
"STL enjoys long-term and mutually beneficial partnerships with all of our suppliers and some of these have come as a direct result of one-to-one or boardroom sessions at Gleneagles. Where there was already an existing relationship it will have been enhanced through interaction at Comms Vision."
Steve Niven, Director at Networks First, commented on what makes Comms Vision special for him. "I have always enjoyed the opportunity to attend Comms Vision as I know that I will have the opportunity to meet with likeminded people who share the same business interests," Niven explained. "I've found the key differentiator with this event is that developments within the channel are debated at a business level. The technology is still a part of this, but how the channel can address the needs of organisations at an operational level is key.
"With a 25 year history of working with the channel, Networks First has witnessed a changing scenery across both partners and vendors. With the rapid pace of adoption of new technologies being bi-directional, whereby those in the IT world need to keep pace, no longer does technology only infiltrate from the enterprise down. Employees are demanding working practices which reflect their use of technology outside the business arena. I'm looking forward to this year's event and the focus on the way UC&C is changing."
Moving forward, Comms Vision will keep to its 'Change is Good' mantra particularly this year as we explore how the confluence of new market forces and technologies are creating a whole new era of IT which will in turn bring new challenges and opportunities for the comms channel.
Under the theme of 'Digitalisation - driving new enterprise and industry business models', Comms Vision 2014 will attempt to clarify the major trends driving Digitalisation, what this means to the comms channel, how it is changing the way organisations will be purchasing UC&C solutions in the future, who will have control of the budgets, where UC&C fits within the wider hybrid IT world, and most importantly how to exploit the opportunity. We look forward to welcoming those with the vision to understand that 'Change is Good'.
To register your interest in attending the conference, please visit: www.commsvision.com