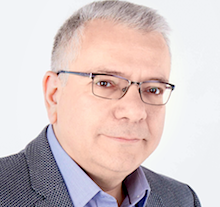 Strategic Imperatives MD Wail Sabbagh has set his sights on going one step further in a key category of the 2020-21 International Cloud Awards having been pipped at the post last month in the Best Payment, Finance or Billing Solution 2019-20 classification. 
The channel-focused company's Elevate billing platform went head-to-head with global industry giants such as Zuora, which has a market valuation £1.4bn. Other big guns in the category included BillingPlatform and Chargify.
"Our nomination came as a successful year for our team drew to a close," said Sabbagh. "Our multi-currency capabilities have seen our customers launching in Australia, Ireland, France and Germany; and our continued investment in Elevate has enabled our customers to rapidly roll out new brands, products and services as well as streamlining their transition into the modern connected marketplace."
The Cloud Awards programme launched in 2011 and this year's event saw entries from hundreds of organisations across multiple industries from around the globe, covering the Americas, Australia, Europe and the Middle East.
The winners were announced on 30th January 2020.