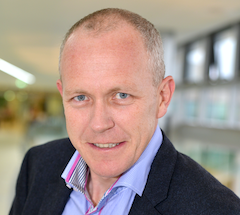 In taking local 5G trial sites and setting them on a national stage we appreciate more fully the powerful narrative of a pending mobile-first world, according to Onecom CEO Ben Dowd.
It would be a great miscalculation to underestimate the impact of 4G's transformational reincarnation and not keep customers up to speed now on developoments, believes Dowd. By keeping customers fully informed on the progress and implications of 5G roll outs ICT providers will be among the first to unleash this technology on a customer base primed for an upgrade.
Many of Onecom's customers already see themselves participating to some degree in a 5G experience, asking questions that require firm answers. "Our customers are keen to understand what 5G will offer them and how it will impact their business," stated Dowd. "They are specifically keen to know when 5G devices will become available and at what cost. 
"They are also asking whether it's best to wait a while before they upgrade, recognising it will take time to roll out and for the big manufacturers to launch their mass market offerings. They ask if they will have to swap out all existing 4G devices and if interoperability issues might occur. From a productivity perspective they want to know what more 5G can do over 4G and how it can make their business more efficient. We don't have all the answers right now but managing expectations and keeping an open dialogue is a key area of focus for us." 
Our customers are keen to understand what 5G will offer them and how it will impact their business
5G is already in trial with the UK networks and expected to start rolling out this year, so Onecom has wasted no time in making 5G plans with key partners, particularly the networks and device manufacturers, to understand timescales and roll out schedules. "We learnt a great deal from the upgrades from 2G to 3G and 3G to 4G, and we'll use that experience to help us plan and prepare for 5G," added Dowd. "In this, the Government must ensure that regulation enables the networks to access dark fibre to deliver 5G backhaul. This will greatly increase the likelihood of achieving densification in cities."
In their move from 4G to 5G many businesses will have for the first time an opportunity to become 'mobile first'. "5G will have a huge impact, driving convergence in communications and IT and much greater collaboration," noted Dowd. "5G, like other previous technology upgrades, will be more about the outcomes and use cases it delivers rather than the technology. Solutions sold in this way, with clear commercial and end user benefits, will help drive acceleration. Continued investment in the UK tech sector will also be necessary to drive adoption at pace."
 
The UK is recognised as one of the top 10 countries in terms of readiness to roll out 5G, along with China, South Korea, the US, Japan, Germany, France, Canada, Russia and Singapore. That said, there are challenges to overcome such as the current lack of viable fibre backhaul for small cells which enable densification in large towns and cities, pointed out Dowd. "There have been great lessons from the roll out of 4G which will be replicated with 5G," he added. "There are likely to be additional requirements for the provision of a broader range of products and services."
5G is also a big opportunity for wireless operators to broaden their portfolio of services and grow data usage. "We expect to see IoT opportunities proliferate with a further explosion of connected things and more immersive experiences, whether that's in entertainment through VR or in the medical profession where 5G enables information and data to be transmitted with no latency," said Dowd. "The key for operators is to make sure increased demand for data and new digital services are monetised and customer expectations on the value these services bring is clearly managed. There is a big reliance on the networks to articulate the 'art of the possible' and enable the channel to work with end customers to help them understand the opportunities.
"The advent of 5G feels like the convergence of many strands that we have seen coming for some years – IoT and smart cities, truly converged communications and a mobile first approach. As 5G is deployed Onecom will need to work closely with the networks to understand roll out plans so expectations can be set for customers who will have their estates split possibly between 3G, 4G and 5G. Clearly, the benefits of 5G will determine the pace at which those businesses upgrade from older technologies."