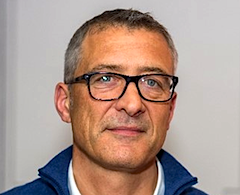 One technology alone stands to really transform the UK's comms landscape, the roll out of 5G, according to Gavin Jones, MD for Mobile, Media & Broadcast at BT.
The overwhelming weight of opinion on 5G is clear. It is that Britain's digital economy will be greatly enabled by 5G and that connectivity services to businesses and how they are delivered will be transformed. What is not yet so clear is the full nature of the potential challenges faced by operators when implementing this revolutionary technology.
A pathfinding project has been undertaken by BT's mobile arm, EE, which has switched on live 5G trial networks in Canary Wharf and across east London and is targeting speeds in excess of 1Gbps. EE has also named the first six UK cities where 5G services will be rolled out. "Our live 5G trials are helping us to better understand some of the main obstacles and challenges which will be faced by all operators when deploying 5G networks," said Jones.
One challenge is the need for rooftop sites to be significantly strengthened to carry the new 50kg 5G antennas, with some sites supporting up to three such antennas at a time. "The level of upgrade work required on rooftop sites can often cause delays in obtaining planning permission and require repeat visits, meaning multiple access requests to landlords and building owners," added Jones. "The location of 5G antennas also needs to stay within the guidelines for public exposure to power output, meaning added complications around the positioning and location of antennas to ensure these limits are not exceeded."
The move to 5G, says Jones, will spark a big shift in the number of planning and consent applications needed in urban areas, which is already constrained by red tape at a local level. "The current concessions model around the use of street furniture in urban areas when deploying small cells for 5G networks also acts as a barrier to investment, so we're keen to work with local authorities and other mobile operators to agree an alternative model," added Jones. "Here we welcome the Government's focus on removing barriers to 5G and fibre deployment through the DCMS Barrier Busting taskforce."
As the roll out of 5G progresses we'll begin to see increasingly widespread deployment of wireless and fixed wireless networks
This all means that mobile operators will need to continue to sweat their 4G investments while also preparing for the introduction of and gradual roll out of 5G services across the UK. "5G will not replace 4G, but will add to the network, allowing customers to be connected to both at the same time," noted Jones.
As well as its six nominated cities – London, Cardiff, Edinburgh, Belfast, Manchester and Birmingham – EE plans to roll out 5G services to a further 10 cities once the initial six are up and running. These implementations will no doubt benefit from the trial runs currently on the go. "Our 5G trials are helping us to better understand how the technology performs over a live network as well as  informing the shape of our 5G propositions," stated Jones.
BT's 5G services for businesses will focus initially on providing faster mobile data speeds and more capacity, explained Jones. "This will allow us to deliver more connections and richer services to businesses than we do today," he added. "We see the future being about how multiple access technologies across fixed, mobile and wireless can be bound together by an intelligent software-driven common infrastructure to deliver a seamless customer experience. It's here that we see the biggest opportunity for BT, its customers and the channel - in building a truly integrated smart network combining fixed, mobile and Wi-Fi."
The benefits of 5G to businesses in terms of latency, speed, reliability and volume will be a step change from where we are with 4G, although the two networks will be complementary. "But it's fair to say that as the roll out of 5G progresses we'll begin to see increasingly widespread deployment of wireless and fixed wireless networks, with business customers taking advantage of faster speeds, lower latency and greater capacity and reliability," noted Jones.
"We may also see 5G shake up the market in terms of the tariffs and pricing on offer. For instance, business customers may well ask their provider to supply 5G wireless Ethernet solutions instead of fixed Ethernet for rapid time to market or combined 5G/fixed services with compute or security as part of the base service. This combined with wider technology convergence such as OTT, cloud and the IoT will enable us to provide our customers with technology which is bespoke to their business and their customers.
"How we as an industry can provide these services in a flexible and cost-efficient manner that allows our customers to provide new and innovative solutions will need new thinking and a big effort and investment. This is a challenge we intend to take on."