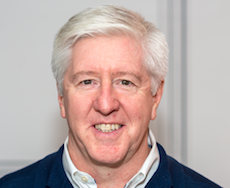 5G services for businesses became a reality on May 30th when EE launched the technology across the UK's four capital cities plus Birmingham and Manchester. A further ten cities – Glasgow, Newcastle, Liverpool, Leeds, Hull, Sheffield, Nottingham, Leicester, Coventry and Bristol – will be switched on to 5G later this year.
The BT Group business also introduced new 5G plans and a range of six 5G smartphones and devices.
"We're already working with our customers to help them maximise the potential of 5G," said Gerry McQuade (pictured), CEO of BT's Enterprise Unit. 
"It will accelerate the growth of the UK economy by driving a fundamental change in how technology supports people, enables workplaces and simplifies business operations."
The first phase of EE's 5G rollout is a 'non-standalone' deployment built on top of the EE 4G network. Customers will connect to both 4G and 5G at the same time.
Ten more towns and cities are planned to get 5G in 2020 – Aberdeen, Cambridge, Derby, Gloucester, Peterborough, Plymouth, Portsmouth, Southampton, Worcester and Wolverhampton.
EE is expanding 4G coverage into rural areas, adding more capacity to 4G sites by turning a 3G signal into 4G to enable more spectrum. 
Phase 2 kicks off in 2021 with the introduction of a full next generation 5G core network, enhanced device chipset capabilities and increased availability of 5G-ready spectrum. 
In 2023 the third phase gets under way with the roll out of Ultra-Reliable Low Latency Communications (URLLC), Network Slicing and multi-gigabit-per-second speeds. 
"This phase of 5G will enable applications like real-time traffic management of fleets of autonomous vehicles, massive sensor networks with millions of devices measuring air quality across the entire country, and the 'tactile Internet' where a sense of touch can be added to remote real-time interactions," added McQuade.