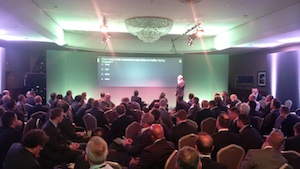 Addressing delegates at Unify's UK Partner Conference today, Tony Smith, Sales Director for the Indirect Channel, reaffirmed that the Siemens legacy is strong and will not be thrown away, but discarding its base of legacy kit in an upgrade migration push is now top of the agenda.
"There are 25,000 Hipath 3000 systems installed in the UK," he said. "The opportunity is ripe to migrate these to OpenScape and take advantage of SIP and UC. There are also 5,000 Hipath DX legacy systems that are end of life. Legacy based migration will deliver growth."
Torsten Raak, Global Head of Marketing and Communications, added that resellers have welcomed the Unify brand as refreshing and apt.
"Unify was three years in the making," he stated. "We now have a worldwide trademark. And following the October 15th launch we were the most talked about subject on Twitter with 36.8 million impressions in four weeks.
"We have 20,000 twitter followers, 42,000 visits to the launch hub on the 15th and 135,000 page impressions on linked in. It represented the largest single project investment ever undertaken by our organisation.
"Unify stands for transformation and moving forward collaboratively. Unify speaks differently and looks and feels different."
Following the rebrand a key concern among partners was how Unify plans to help them drive the new brand in the UK,. especially the lucrative mid-market space which MZA says is an expanding opportunity.
"We are advertising in key publications and on websites visited by CIOs," explained Sue Bowkett, Marketing Manager. "We have launched a new Unify partner portal loaded with marketing collateral and have made available co-branded e-shots that partners can broadcast to their customer base. The offices in Milton Keynes and London have also been rebranded in readiness for customer meetings and presentations. We have ramped up the Unify marketing team and recognised the importance of the channel."
Reaction from partners to the rebranding has been positive, confirmed David Dyer, Partner Account Director. "New, vibrant and exciting are the terms partners have used in response to Unify," he stated.
"The launch of our marketing campaign has been amazing but it's what you put on your websites and what you take to customers that counts. Partners must ensure that they use the assets we have made available to them."
?George Aristidou, Sales Director for HiTouch, told delegates how a listen and learn approach has helped Unify better align its strategy alongside the needs of reseller partners with a new approach to collaborative working.
"We have listened and changed our go to market model," he said.
"My team was vertically aligned and direct in commercial and public sectors. Now it's a two way strategy. We have got a team stoking up business and when we get an SMB opportunity we will invite partners in.
"Do not be afraid to engage with bigger customers too. We know how to win these deals head-to-head with our competitors. We are talking low end and high end. If we can make this work with HiTouch and channel teams working together."
The Unify brand launch was accompanied by news of a change in the vendor's distribution strategy that saw Nimans become the vendor's sole UK distributor.
Richard Carter, Group Sales and Business Development Director, Nimans, said: "It's all about investment. We will invest in tech support. We will also be employing a Unify business development manager. Unify is the largest team and largest brand we have in Nimans with 13 people working with Tony Smith's team. We will invest in lead generation and collaboration with relevant marketing."
More conference highlights:
The Unify partner channel sold 47 per cent more systems in late summer/Autumn 2013 than same time in 2012
MZA says the opportunity in 150 to 1,000 ext mid market sector is five times larger than enterprise opportunity
OpenScape Business has been sold to 8,000 organisations around the world and 105,000 users are active with 24,500 UC users
The Hipath 4000, rebranded to OpenScape 4000 v7, is positioned as solution for any Hipath DX customer with over 25 million ports installed worldwide
Reseller offer: All the basic UC applications on OpenScape enterprise offered on OpenScape Express
Unify UK partner event award winners
SMB solution of the year 2012-2013 - Corporate ICT
Mid Market solution of the year 2012-2013 - Lloyds IP
Large Enterprise solution of the year 2012-2013 - Net Connections
Private Cloud solution of the year 2012-2013 - C STEM
Public Cloud solution of the year 2012-2013 - Datrix
Reseller of the year 2012-2013 - Datasharp UK
Sales person of the year 2012-2013 - Datasharp UK Ben Shepherd
Technical person of the year  2012-2013 - Integra David Carroll
New reseller of the year  2012-2013 - IP Office
Fastest growing reseller of the year 2012-2013 - NIX Communications
Highest system volume reseller of the year 2012-2013 - Supply Group