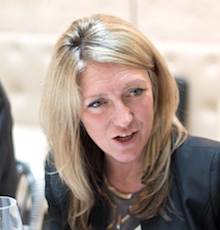 According to Unify's VP for Global Marketing Michelle Jones the ultimate test of any marketing strategy is whether it gives partners a target to aim at and an opportunity to win.
Moving from Avaya Jones joined Unify in January 2015, attracted by its strategy to transform away from on-premise to cloud and impressed by the potential of Unify's Circuit collaboration platform. "From a career perspective the move gave me an opportunity to develop my skills and knowledge in the software and cloud arenas," commented Jones. "Unify's strategy to grow its channel business also appealed. I knew my core skills, ideas and programmes could be used to accelerate growth and transition the company to become a channel-first vendor. 
"A year ago our aim was to deliver 60 per cent of business via the channel and we achieved that target. Now we do 90 per cent of our overall business and 100 per cent of net new sales via partners. Unify has a great channel presence with over 130 partners actively engaged across a mix of integrators, service providers and resellers."
Jones' close rapport with the channel began in 1994 when she worked for a small Lan2Lan company called NewPort Systems, which was acquired by Cisco. "That's where my career really progressed," she recalled. "I rapidly engaged with channels and this has been core to my role and success ever since."
Her first job at Unify was to increase the value and understanding of partner models, re-shape the marketing organisation structure to support channel marketing and investment, and build a scalable global marketing support function. "In the past 12 months we've committed sizable investments and made upgrades to our partner programme and channel strategy," she commented. "We have not only added more heads into the channel team, launched an internal channel account management programme and created a global Sales Enablement division to make it easier for partners to do business with us, we've also invested over £100k into our mid-market programme."
That's not all: Unify made a multi-million pound investment in the launch of a public cloud and collaboration service to complete its portfolio offering for the 'as a service' market. "The landscape has shifted to social, cloud-based ways of working and digital workplaces," commented Jones. "Our purpose is to make collaboration better and easier and help organisations succeed in a disruptive world by creating great experiences for employees. After all, as Charles Darwin once said, 'It is the long history of humankind, those who learned to collaborate most effectively have prevailed'."
According to MZA, in 2017 Unify's market share for on-premise grew slightly in the 11-50 user market, 1.5 per cent in 50-250 and 2.5 per cent in the 250-1,000 segment. "We expect this growth to continue in 2018 despite the competition from the cloud in these spaces," noted Jones. "We were pleased to see that our contact centre market share grew significantly in 2017. Our public cloud offer results will also start to kick off this year. This performance, apart from the 11-50 market, compares favourably to the rest of the market."
The backing of Atos in terms of financials and capabilities has allowed Unify to develop a value proposition for the digital workplace, wrapped around partner services. Atos is also a channel for Unify and has opened up big opportunities in the large enterprise space where most partners don't operate, meaning no channel conflict. Last month Atos moved to a new London headquarters, offering partners access to a customer experience centre. 
"Being a strategic part of Atos and a core component of its digital workplace strategy provides the market with confidence about our collaboration and communication platforms and how these fit into the wider digital transformation agenda," stated Jones. "The combination of analyst reviews, new partner opportunities and some large new clients are proof points of this. Greater financial stability is fuelling innovation within our portfolio, enabling us to drive transformation to both Atos's client base and Unify's new and prospective clients."
Jones also noted that a lot of 'as a service' offerings are simply a race to the bottom on price, especially in the hosted telephony market. "These offer little scope for a partner to add value through services or differentiate their offer from others," she added. "It's not a strategy we see working for Unify's UK business. We make sure all of our platforms give partners the opportunity to maximise their margin. An example of this is the Openscape Cloud offering where our partners can wrap their own services, support, connectivity and SIP trunking to the Openscape Cloud collaboration service. This means a partner can shape a proposition to a prospect without competing totally on price, and allow them to make a healthy 40-plus per cent margin." 
Jones' lens is also focused on improving the way Unify communicates with existing partners, as well as on-boarding new ones. She expects the cloud to drive an uplift in the number of overall partners that resell the vendor's offerings, and a crucial stage of this is the on-boarding phase. "We have invested in a sales enablement team that will guide a partner through signing up with Unify, getting access to the right support and resources, and explaining our partner programme to set them up for success," she said. "Partners are our future and we need to make sure we are easy and simple to approach and communicate with. The Unify Partner Portal is the foundation for everything we do and now we have our cloud strategy set we can continue to reward growth and investment. We are also using our Go Cloud/Go Hybrid promotions to allow partners to re-monetise their existing base of on-premise and hosted customers." 
Cohering cloud and on-premise into a single solution is one thing, but for Jones, a mother of three, how the work-life balance hangs together is a different proposition. "I don't think I will ever achieve the right balance, but that's just me," she commented. "I have a crazy life outside of work with horses and children, but I've learnt not to feel guilty about finding time for my children, even if that means dropping them off to school and picking them up. I'm fortunate to be in a business that empowers and enables flexible working through technology. I love the flexibility and can get my job done from any location on any device. It's so important to be connected, but not necessarily to a desk or office."
Just a minute with Michelle Jones...
Role model: 
Richard Branson: A self-made millionaire and successful businessman with no ego, so inspirational, caring, successful and willing to share advice
What talent do you wish you had? 
To be able to treat horses or animals, like a chiropractor. I love being with animals and to know I'm making a difference  
What do you fear the most? 
Not being able to ride my horse  
If you weren't in comms what would you be doing? 
I like working with children so probably teaching. I teach netball at my daughter's primary school and enjoy giving back to the local community 
Tell us something about yourself we don't know: 
I was a ball girl at Wimbledon and relished every minute of it. I still have the full kit but unfortunately it doesn't fit any more!
What's the best piece of advice you have ever been given? 
Say 'yes, you can do it' and figure things out as you go 
Career highlights: Launching the biggest SME Efficiency Campaign at Cisco, which was a major success in terms of awareness, channel loyalty and revenue. And recognition as a strong leader in the top one per cent during my time at Avaya 
Comms industry bugbear: 
We need to see more young talented females join the industry. It's such a fast moving sector with so many opportunities, but all too often seen as a male dominated environment