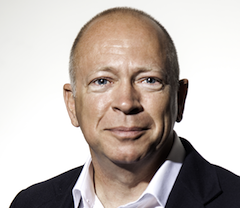 Going private is not the only planned outcome of Mitel's $2 billion sale to Searchlight in April. According to SVP of EMEA & APAC Jeremy Butt the deal has catalysed the vendor's evolving cloud strategy which includes a blend of UC, machine learning, big data, the IoT and AI technologies.
Speaking to Comms Dealer Butt opened up about the Canadian vendor's cloud and UC strategy, what's top of mind post-acquisition and the role of new technologies in elevating the customer experience. The official line from Mitel is that machine learning and AI will deliver higher levels of personalisation and efficiency to customer transactions and interactions at a time when IT decision makers see customer experience improvements as a key component of their digital transformation programmes. 
"Central to customer experience transformation is unified communications," stated Butt. "Customers expect an omnichannel experience that extends seamlessly across their mobile and online interactions, and gives them the option of moving between voice, video, text and chat as the situation and personal preferences dictate. Equally important, customers expect contextual conversations that integrate their multichannel experiences so, for example, customer service agents on a voice call can quickly reference an online chat that took place earlier in the day."
Combining UC with the potential of big data, IoT and AI holds huge promise for optimising customer interactions, believes Butt. "As we know, unifying customer communications streamlines and simplifies processes and ultimately delivers a more satisfying customer experience," he added. "When organisations can combine this with collecting more data from their products they can integrate insights from data analysis into their customer relationship management systems and begin to anticipate the needs and questions of both new and returning customers. This predictive model will provide a more tailored, more personalised customer experience and UC will continue to play a vital part in this evolution."
According to a market study undertaken by Mitel which took into account the views of 2,500 IT decision makers across six countries, three out of four respondents plan to implement machine based interactions with customers within the next two years. The research paper, called Giving Machines a Voice: How Machines Will Shape the Customer Experiences of Tomorrow, confirmed Mitel's strategic view that 'machines' will prove to be a key value add in delivering a more personalised customer experience. 
The move to a mobile workforce is something Mitel is also keeping a close eye on, noted Butt. He cited Strategy Analytics which forecasts that by 2022 circa 42 per cent of the global workforce will be mobile. 
He believes that unified communications will play a key role in making this way of working a success and Mitel anticipates that team collaboration apps like MiTeam will grow in appeal in this space. "Our objective is to take our customers to the cloud by making everything cloud capable," stated Butt. "The challenge is to align tightly with the channel and end users in this transition. Customers have their own business needs so it's vital that we accompany them through the cloud migration process at their own pace rather than offer a crude rip and replace approach."
 
Deploying unified communications and AI enables organisations to move from a proactive model of customer service to a predictive one, reaffirmed Butt. And the applications of this technology are wide reaching. Take healthcare, for instance. "If you're a healthcare provider, imagine being able to offer someone who is diabetic a glucose monitor that constantly sends information back for analysis," said Butt.
"Data analytics could be used to identify trends and predict outcomes. Does the patient need a reminder to eat something? Does no response to the reminder signal that something more serious might be happening and that the emergency services are needed? This is the kind of preventative care that in many parts of the world we're looking at using, thanks to these technologies." 
Mitel believes that all businesses will eventually move to the cloud, and the company has more than done its bit to facilitate the migration having notched up one million subscribers for worldwide UCaaS last year. "We are living through a time of unparalleled digital transformation," said Butt. "AI, IoT and VR are all driving the evolution of unified communications, none more so than cloud migration."