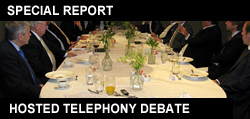 Nimans has prepared the ground for a channel campaign based on its hosted voice service GreenSky which unites capex and opex revenue models and removes price barriers to cloud adoption. Here, we report on a round table discussion (hosted by Comms Dealer and supported by Nimans) that reinforced the need for resellers to incorporate hosted comms as part of a fully rounded customer proposition. Stuart Gilroy reports...
Although not yet at the mercy of a business model in desperate need of reform, non-cloud resellers will at some point need to realise that the PBX is not the only game in town. They should look with their own eyes at specific shifts in the comms market, large and small, and think intelligently about how to react to what is already happening. In some areas cloud already dominates and many resellers may not yet realise how far this has gone. The stable door has been open long enough for a posse of early adopters to gallop across comms territory and meet growing demand for a service that aligns neatly with the modern market. "People are asking for hosted-only," said Martin Boiles, Sales Director, GCI. "They want a product that can scale up and down, is flexible and centrally managed. It's hard to do that if you stick to the traditional model."
The rise of hosted comms has caused a conflict between traditional capex sales models and the growing trend towards opex-based ICT procurement. At this point, many of the old obstacles arise, such as incentivising sales people. Richard Carter, Group Sales and Business Development Director, Nimans, commented: "It's difficult for resellers to move from one model to another. Sales people who are used to upfront commission payments are not going to be attracted to a recurring revenue model. Even if the organisation wants to shift models the sales person could argue that it's easy to sell against hosted when the cost per seat is calculated over five years."
The trend towards cloud services has led resellers to a new challenge in terms of migrating sales staff, through incentives, towards a new mode of operation. Simon Holt, owner of Spectrum Communications, noted: "I've come around to paying people upfront, otherwise there's no incentive to sell hosted. For example, we pay 10 per cent of forecast margin on a one year deal and 20 per cent on a five year deal. This is a good incentive for a long-term commitment."
Taking a long-term view may not be an option for cash-strapped smaller resellers. It's not just about the sales person getting money upfront it's also about the business, pointed out James Lister, Channel Manager, Arrow Communications. "Cashflow for small resellers is a priority," he said. "Sales people have to be financed without the upfront revenue. Resellers must navigate the transition from a traditional reseller to the hosted model but that's not easy for those with little cash in the bank."
GreenSky provides a solution for such resellers, noted Carter, who highlighted revenue opportunities based on a traditional tin-style sales model where resellers can sell phones upfront with included licences, or they can charge on a monthly basis. The service includes a free three year hosted seat licence with every handset bought, enabling resellers to sell hosted in a different way.
GreenSky drew a consensus of opinion among the round table delegates on such issues as price point and joined up revenue models, a combination that Nimans says will overcome traditional obstacles to hosted adoption, appealing to resellers who are aware of hosted but not yet committed to a plan of action because of price and financial concerns around the opex revenue model.
GreenSky is the result of a collaboration between Nimans and GCI and aims to usher in an era of accelerating cloud uptake. The proposition hints at the significant possibilities for resellers of hosted comms, and is an example of how collaboration between companies with little in common other than a shared interest can come together symbiotically to enter new markets.
Nimans marked the launch of its hosted comms solution with a channel survey questioning the market it hopes to stimulate. According to the study, 26 per cent of resellers don't sell hosted but 91 per cent desire a mix of capex and opex revenues. These figures suggest that among a significant group of resellers there is an awareness of hosted but no commitment to adopt cloud solutions as yet. The big question is how to turn reseller awareness into strategy and action. The answer could simply be a stretch of the mind as GreenSky has already caught the imagination of hundreds of resellers.
Nearly all survey respondents don't want to commit to a primary capex or opex model. This could suggest uncertainty and a watch and see approach to the cloud. On the other hand, a portfolio blend of capex and opex is a smart strategic move, according to Mark Curtis-Wood, Head of Networks, Nimans. "If a reseller talks to a customer solely from a hosted point of view or CPE, the reseller offering both options and a broader portfolio has more chance of winning the deal," he commented. "Our sales people who are selling traditional systems are now passing hosted opportunities over because they are having open conversations."
To date it has been near impossible to construct a detailed narrative about cloud adoption in the UK. Years of industry hype have in reality yielded relatively little in terms of actual uptake, but at last there are signs that hosted comms will go some way at least towards fulfilling the promise. Boiles noted: "It's shocking how little hosted has been sold by comms firms that have been in the market for 10 years. But there's no doubt that hosted is the way to go now."
Lister put a spotlight on other factors that have stalled cloud adoption in the past. "Hosted solutions have received bad press," he said. "Unscrupulous resellers have grabbed business at whatever cost and delivered badly. But if the product behind the solution is good and delivered correctly there's no issues. As more resellers become comfortable with IT there will be greater uptake in the market."
One company ensconced in the data space is Digital Exchange Products, a traditional comms reseller that has become emblematic of a wider trend in the market. Phil Sawyer, the firm's Managing Director, predicts a tipping point in the near future. "We are now a Microsoft partner and a VMware service provider," he explained. "We've been doing IT for just four years so voice is still the biggest part of our business. We are not yet at a tipping point when data becomes the bigger part, but we're getting there with 30 per cent turnover last year purely based on IT, and 50 per cent now."
Something is clearly happening that will matter to all comms and IT resellers. Ironically, some have barely noticed the impact even as it happens under their nose. "Consumers are starting to buy services on a monthly payment basis," explained Curtis-Wood. "As a consumer I am buying cloud-based services. It's a no brainer. Inevitably for small business owners there's an expectation they'll consume their own services in this way."
Today's ICT resellers operate in a market characterised by unstructured demand and fluid buying behaviours, and the characteristics of each sale depend on who is buying the products and services. Nimans' survey corroborated this trend in stark terms. On the question 'How important is the handset and inclusive licence model?' 49 per cent said it makes no difference, while 45 per cent believe it makes hosted easier to sell.
These results point to different approaches to selling hosted. For those in the 'makes no difference' camp, perhaps their sales approach is more business-led and in line with the requirements of a new breed of ICT buyer, ie, the CFO, CMO and CEO who are in many cases driving the organisation's digital agenda in the higher echelons of the comms market. For those in the 'it makes hosted easier to sell' camp, perhaps they are selling more on price rather than strategic business change to smaller customers. And given that small businesses are the engine of growth these results bode well for GreenSky which has removed cost barriers.
According to Carter, GreenSky comes at a time when the market is about to turn on a nexus of forces that have converged to create the necessary conditions for cloud growth. These forces include consumeristion, the preferred economics of opex, greater awareness among end users about the flexibility and scalable benefits of hosted telephony, and robust connectivity. "The connectivity is critical," added Carter. "We have bandwidth requirements going up, prices coming down, and the size of the pipe needed by a small business offers resellers a reasonable profit."
There was a danger that allowing industry hype into the debate would 'cloud' judgment, but thanks to Nimans' survey the discussion was firmly grounded. Sixty two per cent of those questioned believe the cloud will not rid us of the PBX any time soon, suggesting that hosted should be seen for what it is, a necessary addition to the portfolio, not an end in itself. It is not pitting hosted voice against CPE that will pull it into a phase of greater adoption, but good old-fashioned choice for the customer.•