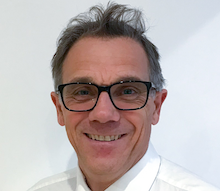 Any attempts to keep ONI CEO Kevin Kivlochan from achieving his goals are going to flounder on the strength of his strategic independence and ambition – as his early career experiences have already shown.
From the moment Kivlochan sniffed the IT sector's air there was only one way to go, as far away from his previous work environment as possible. Despite early career highs as a sales person shifting office equipment Kivlochan's stellar performance did not pay off as you might expect having single handedly doubled company revenue within two years. For his assiduous efforts he received a £25 cash bonus at Christmas as an official thank you present. Feeling understandably miffed Kivlochan realised that his future lay elsewhere and with the help of his uncle, who worked in IT, he secured a sales role in the IT industry. "My basic salary was more than my total remuneration package selling office equipment," he commented. "My first boss in IT taught me that nothing can conquer like perseverance. The thought of never giving up has guided me ever since. I haven't look back."
 
A sense of bald injustice, followed by a reality check, would again prompt a change in Kivlochan's career direction when he was Sales Manager at Jaguar Communications prior to the company being acquired by Cable&Wireless. He sought a position on the executive board but, after lengthy delays and stalling tactics, Kivlochan was told, 'if you wanted to be a boss you would have started your own business by now'.
Not one to duck a piece of solid negativity flung in his direction, and also spurred by anger, Kivlochan teamed up with a member of the sales team who was of the same mind, Mark Collins, and the pair decided to start up a company they called ONI. "We worked out of hours for six months before the time was right to leave Jaguar and devote ourselves full-time to our new venture," explained Kivlochan. "We soon won our first order, an MoD contract worth £12,000 which I still have framed on my office wall."
When I left the company my boss bounced my final pay cheque – so the gloves were off
Kivlochan may also consider himself well framed by what he saw as another incident of undeserved and spiteful injustice. "I had to work my notice as a sales person while privately cold calling non-Jaguar opportunities," he explained. "But when I left the company my boss bounced my final pay cheque – so the gloves were off. I approached Jaguar clients and within six weeks we won a BT order for £160,000."
The payback was almost as sweet as ONI's decision to build and operate its own data centre. "This is something that really differentiates us from nearly all of our competitors out there," claimed Kivlochan. "And a change in company structure has allowed me to step back, look at the strategy and rebuild the ONI identity based on our core strengths – not just those that vendors want us to have. This led us to develop our Business Assured branding that now defines us. Our commitment to 100 per cent uptime underpins our data centre and managed service portfolio, and assures customers that they will always have access to their business critical data and applications. The ONI data centre has never had a service outage since it opened in 2011. We are confident it never will."
ONI currently has a 74 staff headcount and generates circa £20 million turnover with £1.2 million profit. Its target markets are organisations of between 200-2,500 staff across a number of sectors including local government, housing associations, stock brokers, London clearing houses and MoD contractors. "By combining legacy on-premises solutions with our data centre services our customers benefit from transformative digital solutions, deployed where they add most value," noted Kivlochan. "Our agnostic approach to deployment helps organisations to gain a competitive advantage by reducing costs and delivering leaner, less complex IT solutions."
For many organisations, believes Kivlochan, the future of IT lies in a hybrid converged infrastructure that features elements of on-premises, colocation and cloud-based products and services. But finding agnostic advice on the best place to deploy each application can be difficult, so ONI straddles both solution areas with a strong legacy Cisco business supported by its status as a data centre owner and operator.
According to Kivlochan the actual technology is becoming less important – it is the service wrap and customer experience that now carries the greatest import. "The days of selling kit are long gone because customers want far more value than just technology," he stated. "Customers don't care who makes the product now. They prefer the assurance of knowing that the people they partner with will deliver on the service and solution promises they make, all of the time."
ONI Assure Managed Services provides details about the status of IT infrastructure devices, enabling IT professionals to make better informed investment decisions about life cycle management and avoid unnecessary costs. Improved visibility of contract renewals, or when devices reach end-of-life and end-of-support, makes budgeting more accurate and more predictable.
"The pressure of finite budgets will never go away, but ONI helps by making costs more visible so that customers have greater control," explained Kivlochan. "Cloud services are provided from a single orchestration platform, one that offers a simplified product range and an all-inclusive price based on customer usage. There is no need for specialist procurement knowledge to understand a complex product offering or EA pricing structure, let alone fluctuating exchange rates, making it easy to stay in control and avoid unexpected spiralling costs."
The main three big market trends of most note to Kivlochan are SD-WAN as a driver of customer RoI, the move to hybrid cloud solutions and the rise of customers outsourcing 'everything IT' except their core in-house expertise. These developments, he believes, should be a catalyst for resellers to focus on value add services, especially as more companies take services and products from giants like Amazon AWS, Google and Microsoft. "These commoditised services are eating into traditional SI/VAR markets," he warned. "Speed of change is our biggest opportunity. We have the capability to adapt in this fast changing market and continue our move towards a recurring revenue model while seeking to acquire and develop stronger data centre offerings.
"As we move further towards becoming a more customer focused business it is important that the whole company changes tact in one go, and doesn't follow the typical staggered shifts that many businesses suffer from when transformation occurs. Traditional thinking on five year plans are also outdated because of the speed of change in terms of technology and client needs. We plan no more than two years ahead and analyse our strategy and progress. This way we remain confident that our 25 per cent year-on-year growth will continue."
Just a minute with Kevin Kivlochan...
Role models: 
Paul McCartney and Richard Branson 
Big career achievement: 
Starting ONI the same year my daughter was born 
If you weren't in comms what would you be doing? 
Professional racing driving
Best piece of advice you have been given? 
Breathe 
How do you relax? 
Go to the gym
What's the biggest risk you have taken? 
Starting ONI, and moving to a dilapidated Victorian farmhouse as a five year renovation project
  
Name three ideal dinner guests: 
Jesus Christ, I'd ask him why there's so much sorrow in the world; Winston Churchill to understand some of the unknown truths of World War 2; and John Lennon to talk about the days at the Cavern 
Your main strength and what could you work on? 
My greatest strength is perseverance, but I need to work on my ability to hold concentration in long meeting
Top tip: 
Keep looking forward, don't get bogged down by details and stay positive
What possession could you not live without? 
My clothes
How would you like to be remembered? 
As a great father
Industry bugbear: 
Manufacturers that use the word 'tin' for their products. They devalue the reseller market
Something about yourself we don't know: 
I've been married three times to the same woman but never been divorced