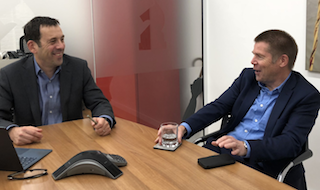 Corporate finance boutique Knight CF has marked its tenth year in business by turning up the volume on its message to the channel - 'things can only get better despite economic uncertainty' – as founding Directors Adam Zoldan and Paul Billingham seek to build on a decade of doing deals and the 100-plus completed transactions firmly under their belts.
To say that the company began its commercial life in uncertain times would be to greatly understate the depth of the recession in 2008. But despite the dire outlook at the time Zoldan and Billingham had spotted an opportunity that has so far created circa £500m value for their clients. 
"We realised that a wave of consolidation lay ahead and there was a lack of good advice for business owners and entrepreneurs," stated Billingham. 
"From the outset call expenditure was in decline, lease approvals were at an all-time low and growth hit the buffers. 
"However, it was also a time of great opportunity for many companies with lower valuations driving opportunistic deals."
Zoldan observed that the emergence of high bandwidth connectivity at accessible prices catalysed a 'dramatic change' in the market, while the rise of hosted voice, the recurring revenue model and 'as a service' products ate into traditional hardware and software business.
 
"Over the last 10 years the communications industry has continuously evolved and remained one step ahead of those predicting a market in decline," said Zoldan. 
"As the financial crisis receded funding became available to the channel. This increased the number of buyers and investors in the sector and we saw acquisitions become more strategic.
"It is an incredibly dynamic, entrepreneurial and successful industry that continues to innovate.
"We believe that the channel will continue to adapt to market dynamics."
In reflecting the changing market Knight CF has expanded and evolved its own business and operations by investing in the Knight R&D tax credit company, as well as establishing investment vehicle fund:tmt. 
"We enjoy the fact that every deal is unique and every day is different," stated Billingham. "And investing in our people continues to drive true value in our business."
Pictured: Adam Zoldan (left) and Paul Billingham