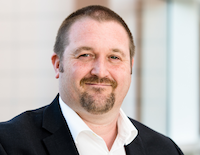 Vodafone UK and Ericsson have tested standalone 5G in the field in partnership with academics at King's College London. They tested standalone pre-standard 5G using a prototype device in a central London 3.5 GHz spectrum field trial. Vodafone will continue to test 5G technology and explore its potential prior to commercial deployment from 2020.
"The live trials will help to establish the uses of 5G services that will benefit both industry and society in the future, in areas such as factory automation, smart energy grids and remote surgery," stated Vodafone UK Head of Networks Kye Prigg (pictured).
Engineers put the spotlight on a number of technologies at King's College London including Massive MIMO, which is already being deployed by Vodafone and a key building block for 5G.
Massive MIMO uses multiple antennae to send and receive data more efficiently, boosting capacity where lots of people connect to the network at the same time.
The project is also combining or 'aggregating' different bands of mobile spectrums across the UK to increase capacity and boost data speeds.
Prigg added: "Building a 5G network will take time. Right now, we're also modernising our network by making smarter use of our existing mobile technology.
"5G also needs fibre optic cables. Together with CityFibre we will soon start work installing the advanced fibre networks providing high-capacity backhaul connections required for 5G mobile services."
Marielle Lindgren, Head of Ericsson in the UK and Ireland, added: "This was a live trial in a densely populated central London urban area, and the first time in the UK that we've been able to show pre-standard 5G working independently."
Mischa Dohler, Professor of Wireless Communications and Director of the Centre for Telecommunications Research at King's College London, said: "King's has become a global go-to-place for industries regarding 5G innovation, design and delivery."