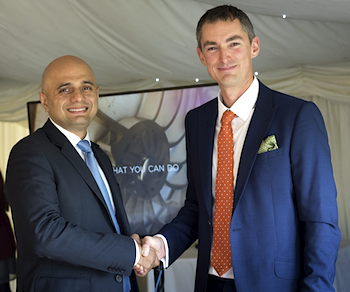 Bromsgrove MP Sajid Javid joined Armstrong Bell guests to celebrate the firm's expansion, having recorded 15% growth in revenue in the last financial year and doubled its office space just two years after its first doubling of capacity.
To celebrate the achievement Armstrong Bell, based at Greenbox Office Park, Westonhall Road, hosted a champagne reception at Grafton Manor Hotel, Bromsgrove, which was attended by 80 customers, suppliers and partners.
Armstrong Bell MD Will Copley, said: "Increasing office space had been a project for January next year, but growth in business suddenly made it a more urgent issue for us.
"When we had the opportunity to take on the second floor of our building we knew it would be ideal. Business is accelerating and we're in a strong position to meet our ambitions of quadrupling the business in six years, which is essentially 26% year-on-year growth.
"The last time we doubled our space, we attracted key senior figures to the business and we're now looking for more talented people to join us. A few years ago it was hard to visualise such an expansion, but now we have a good framework to support our longer-term growth plans."
Sajid Javid MP added: "I'm pleased to help mark the success of local telecoms star Armstrong Bell. It's a remarkable success story - right here in Bromsgrove. I wish William and his team all the very best."