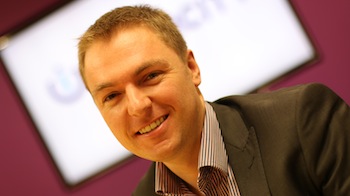 Intercity Technology is celebrating its third decade in business since it was founded by Alan Jackson in Birmingham in 1985.
The company has an expanded geographical footprint across the UK and into Europe and its acquisition of Gage Networks in April this year extended its reach into the US and Asia.
The firm was first known as Intercity Mobile but in 2010 a rebrand saw the name change to Intercity Telecom. The company is now known as Intercity Technology and a major milestone was sealing the first Vodafone partnership agreement in the UK.
It also claims to be the first UK company to be granted a licence for cellular services in the Netherlands and is accredited with the Institute of Customer Service ServiceMark.
CEO Andrew Jackson (pictured) commented: "We are thankful for the great relationships that we have formed with our customers and partners over the last 30 years.
"We have an amazing team, many of whom are still with us since the business launched.
"These relationships and achievements have shaped our history and will guide our future innovation.
"With 2015 being the fastest growing year in our history we all look forward to what the next 30 years will bring with great optimism."