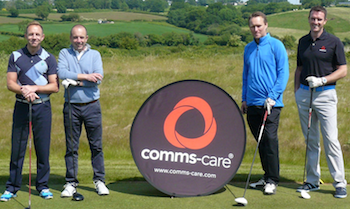 Comms-care's seventh annual Partner Golf Day held at the Celtic Manor 2010 Golf Course saw each team headed up by a member of Comms-care, with team-Ricoh ultimately triumphing under the leadership of Comms-care's MD Ben Davies (pictured far right).
Prizes for runners up, best individual score, beat the pro and nearest the pin were also handed out during the evening, as well as a 'waterboy' award for most in the water.
Comms-care's Sales Director Rob Darby said: "This is our partner event of the year and we get a chance to say thank you to our most loyal channel partners."
The teams were greeted with a surprise on the driving range with a special guest, Kevin Carpenter, who provided the teams with banter filled entertainment with his one-of-a-kind trick shot show.
Utilising gym balls, unicycles and balloons Kevin geared the teams up for a day on the course in the midst of the June heatwave.
Once all golfers had made their way back into the clubhouse they were escorted to the Samuel Ryder Suite where a meal and evening awards were held.