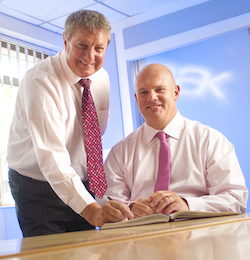 Oak's founders James Emm and Phil Reynolds not only gave birth to one of the comms industry's greatest success stories they also fathered two boys who have followed in their footsteps and are themselves blazing the R&D trail and carving out a niche with Canada-based Oak Systems International.
Oak Innovation's (formerly Oak Telecom) founders James Emm and Phil Reynolds have for decades proved themselves to be a formidable partnership in the call management space, and during that time their various qualities have been woven into the fabric of their sons who also display complementary attributes that, says William Emm, are an evolution of their fathers' specific areas of expertise - James being the supreme salesman and Phil the master of all things technical. "We're the upgrades," William stated with a smile. "I am salesy and good at opening doors but also have technical skills, while Dave is technical with a flair for sales. There is more cross-over in the skill sets.
"That said, my dad has more energy than me when it comes to networking late into the night. He is one of the most honest, ethical people I know, inside and outside of work. I try to emulate that and it pays off. I didn't think I would be working with him when I was younger, but the opportunities at Oak kept coming and they were hard to ignore."
The move to Canada in 2010 was another unmissable opportunity. The decision was a reflection of the rising software market and the march of globalisation and subsequent requirement for a fresh perspective on where the market was heading. "When we moved to Canada we were at the beginning of the R&D process," stated Dave Reynolds. "We needed an international operation to allow us to tackle the unique challenges of worldwide software delivery that are not seen when your focus is on a single country. Whether it be regulatory, language or market differences, the ability to provide tailored products and the capacity to react quickly to changing market conditions underpins our reasoning for having a team in Toronto."
Oak Systems International is part owned by Oak Innovation therefore does not report back directly to the UK. It works as an independent sales operation in Canada, but on the development side both organisations work in tandem as one entity. The distance between the two operations is bridged by a coherent strategy and blending of resources, and 'space to think' always produces the best development outcome, noted William. "We can have strong debates when it comes to choosing where to put development efforts," he said. "We need to address the newer markets while satisfying the old guard. Being in Canada allows us to articulate new ideas without the immediate influence of our heritage which helps us in our cloud-first approach."
According to David, the move to the cloud is happening quicker in the North American market which plays directly into the hands of Oak's UK strategy, enabling it to take state of the art technology from the Canadian operation and deliver it in a format that can be consumed by UK customers. "Our team works exclusively on cloud-first products such as our soon to be released real-time reporting product," explained David. "The new product range is capable of ingesting data from a variety of sources such as PBX, CRM systems and IoT devices, which enables us to enrich telephony data and provide meaningful insights. This leads to actionable metrics which is what everyone needs. Historically, we provided telephony views and reports but ultimately they only tell part of the story. Customers need to better understand the context of the data we provide."
As well as the movement to the cloud, William also sees a migration towards companies such as Twilio that provide infrastructure as a service, enabling smaller vendors to offer technology that exceeds the capabilities of SMB PBX vendors at a fraction of the cost. "Moreover, they can move more quickly on the development side and offer customisations in a timely fashion," added William. "However, we are still seeing healthy revenues with on-premise which suggests that we are some years away from the market selling exclusively cloud products."
The strategic strength displayed by Oak Systems International mirrors the parent company's market advance in the 80s and 90s when the chemistry between James and Phil catalysed the organisation's growing sales and technology prowess. "My dad is good at assessing the available technologies and selecting the most productive ones to use," stated David. "I am very much the same in the current age, always looking at what is ahead so we are well positioned to be on the technology curve as opposed to behind it. My dad also has an exceptional ability to remain calm and plot an effective path through any challenge. Since coming to Canada I have applied this behaviour to all manner of tasks which has contributed to our growing success."
In comms industry talk, the tag 'next generation' is often over stated, but where it should apply most the term has until now been under played as the possibility of three generations of Oak family members appears entirely possible. "With the eldest grandchild reaching 18 in August you never know!" enthused first generation Oaker Phil Reynolds. "Let's not forget the other family siblings contributing massively to the continued success of Oak Innovation here in the UK. We have Laura and Chloe from the Emm lineage and Michael and Christianne from the Reynolds line, all focused on every aspect of sales and marketing. They are a formidable team."
Family run businesses are mostly traditional brick and mortar type organisations that rely on a long heritage to underpin future sales. But Oak is no ordinary family business. It's a high tech company run as a family business which Phil says is unique in a world driven by profit and a sector that's experiencing dramatic changes. "These are challenging times for all of us," he added. "But having the family alongside for the long haul has reaped rewards and will underpin Oak's continued success."•