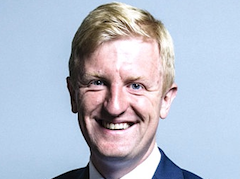 Minister for Implementation Oliver Dowden CBE is to deliver the opening keynote at this year's Comms Vision Convention at Gleneagles Hotel.
Dowden was appointed as Parliamentary Secretary at the Cabinet Office on 9th January this year and elected as the MP for Hertsmere in May 2015.
He is responsible for Government technology including the Government Digital Service, Infrastructure and Projects Authority and the Crown Commercial Service. 
Dowden's keynote on November 7th will kick off a high calibre agenda that will give delegates a strategic sense of what Digital Britain means to the channel following the Government's full fibre switchover plan which is expected to be mainly completed by 2030.
"To meet those timescales the Government has an essential part to play in helping to remove the roadblocks that hold our industry back," stated Neil Wilson, Head of Products & Marketing at Virtual1.
The Government intends to increase competition and investment in full fibre broadband, create more commercial opportunities and make it easier and cheaper to roll out the infrastructure for 5G.
According to Government figures the UK has only 4% full fibre connections and lags behind many key competitors – Spain (71%), Portugal (89%) and France (28%).
Adam Williams, Head Of Direct Sales at KCOM, stated: "This is an exciting time for us to influence a digital strategy that will make the UK a global competitive force."
It takes Vision to be a leader
Comms Vision (7-9th November, Gleneagles Hotel) is the leading annual leadership forum for CEO, MD and CTO delegates making up the major league of the UK reseller community. Places are limited and by invitation: If you would like to join us this year, please register your interest to attend at www.commsvision.com