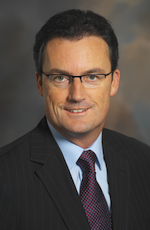 Technology giant Cisco has pledged to invest $1bn over the next two years to build what it claims will be the largest global Intercloud. Cisco's investment will be in building up data centres to run the new service called Cisco Cloud Services, to be delivered with and through partners.
Cisco's network of clouds will also rely on data centres operated by partners and the company says its global Intercloud will offer an expand- ed suite of value added application and network-centric cloud services to drive forward the Internet of Everything.
The move is fresh evidence of a shift in customer preferences towards renting external services rather than buying hardware that resides on site.
Robert Lloyd (pictured), President of Development and Sales, said: "The time is right for Cisco and partners to invest in an application-centric glob- al Intercloud to offer broader reach and faster time to market.
"Together, we have the capability to enable a seamless world of many clouds in which our customers have the choice to
enable the right, highly secure cloud for the right workload, while creating strategic advantages via innovation, and ultimately business growth."
Cisco is already working with global partners to focus on big corporations and government agencies while optimising its services with software from companies such as SAP, Microsoft and VMware.
Cisco is also expanding the Cisco Powered programme to include Cisco Cloud Services.