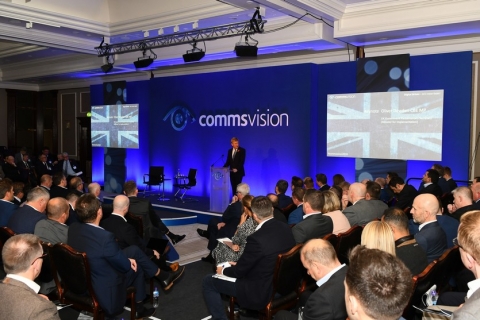 In what has been an unprecedented year, Comms Vision 2021 (10th-12th November, Gleneagles Hotel) will chart the next big comms market shifts as we emerge from Covid-19, map the Managed Services Provider competitive landscape, and explore your potential to create customer value, loyalty and sustainability in times of unparalleled market disruption and change.
Have you considered how much the professional and managed services world will change? Do you have a clear understanding of what will underpin your place in the New Comms Universe – an Age of Hybrid Working, Powerful Digital Alternatives, Data Supremacy, Full Fibre and 5G, the Billowing Public Cloud and Unprecedented Competition? Comms Vision 2021 will provide the clarity you need to gauge where we are now in this truly unprecedented year, where the real value of tech companies will reside in 2025 and beyond, and the critical role of your organisation's human capital in helping you to achieve your long-term objectives.
The sum of major industry transformations such as the move to all-IP, the national fibre roll out, trends in public cloud infrastructure procurement, the rise of data-defined business models and the primacy of technologies such as AI – and the march of mega-disruptive alternative providers – is pushing the MSP world into a period of irreversible change. Not to mention the impact of Covid-19. Already, customers are far more exposed to substitute products and services from new suppliers – and users are more demanding of speed, quality and agility from their service providers. Meanwhile, digitally adept and innovative challengers are emerging in the sector, and resourcing models are being disrupted as major public cloud providers and tech giants continue to gain market share and show great interest in pioneering the wireless connectivity space.
Collision course
Traditional industry players are wide open to forces beyond their control. So much so that the conventional comms channel and its early stage cloud evolution could merely be the precursor to something far bigger – an all-out global revolution in communications driven by Super Disrupters with a strong influence over the future of cloud computing and ICT procurement trends.
These Super Disrupters – Microsoft, Amazon and Google etc – and the traditional comms sector are colliding, therefore Comms Vision 2021 will take a hard look at the evolving Collision Zone and assess the channel's place in an age of ever intensifying competition, business model change and customer value shifts. Against this backdrop we must ask a cardinal question: What will be the channel's true relationship with customers in this massively transformed and data-centric space?
ICT spending goes public in the cloud
Synergy Research estimates that Q4 2020 enterprise spending on cloud infrastructure services exceeded $37 billion, $4 billion up on the previous quarter and 35 per cent up on Q4 2019. It has taken just nine quarters for the market to double in size. While Amazon and Microsoft continue to account for over half of the worldwide market, Microsoft gained ground on its larger rival and hit the milestone of achieving a 20 per cent worldwide market share.
"2020 ended with a bang for the cloud market as the sequential jump of $4 billion from Q3 easily set a new record for cloud providers' incremental revenue growth," said John Dinsdale, a Chief Analyst at Synergy Research Group. "Amazon and Microsoft tend to overshadow the market, with Amazon's share staying at well over 30 per cent and Microsoft growing its share over 16 quarters. Amazon and Microsoft continue to invest billions of dollars every quarter in expanding their global data centre footprint while at the same time enhancing their cloud service portfolios. These two don't have to spend too much time looking in their rearview mirrors and worrying about the competition." 
Market rivalry set to intensify
The dominance of the major cloud providers continues to grow in public cloud where the top five control 80 per cent of the market. However, that is not to say that there aren't some excellent opportunities for other players. "Taking Amazon and Microsoft out of the picture, the remaining market is generating over $18 billion in quarterly revenues and growing at over 30 per cent per year," added Dinsdale. "Cloud providers that focus on specific regions, services or user groups can target several years of strong growth."
Disrupting tradition and going data-first: Assessing new approaches to business model innovation To create mechanisms for future value creation we must understand where customer value is moving and how to reposition your organisation to capture that value. Success depends on having a clear view of the challenges and opportunities that lie ahead. One thing is certain: That Data is King, and that we will see the rise of data-first solutions providers.
More and more customers expect data analytics services that offer real-time insights. A key question is how these priorities will redefine the professional services model, which must adapt to the demands of customers who value insights gleaned from data harvesting, data control and management. Data generation and capture will prompt new approaches as data becomes core to the value received by customers. Therefore the real value of tech companies rests in a combination of technical and business understanding, IP ownership and the harvesting and management of data.
Maximising data-centric customer value shifts
There is a fundamental shift towards a data-led services approach with a high level of personalisation. Now, it is key to look at what the future has in store as organisations move towards cognitive technologies such as Big Data Analytics, Machine Learning, Natural Language Processing, Artificial Intelligence and Robotic Process Automation. All of which could potentially and over time be packaged without complexity and offered by Super Disrupters as simple Big Button Comms solutions, meaning that smaller service providers may need to operate creatively in niche markets to build value.
Innovate your way to success in niche industries
Uncovering opportunities where niche sectors can harness technology is one way to differentiate. Therefore Comms Vision will explore the reasons why developing a niche market technology practice today could be key to success. We will see examples of applications and use cases of AI, ML and IoT that get under the skin of specific industry sectors. But remaining relevant in an era of ever expanding choices, and being able to stand your ground by delivering innovation to niche sectors, will likely hinge on leveraging ideas, creativity, insight and personalisation, all from a data-centric standpoint. So define your future at Comms Vision. Innovation by definition means more growth.
Understanding the critical role of human capital strategies in times of change
As business transformation continues to accelerate we must ask whether our talent acquisition plans are keeping pace? Human capital strategies are playing an ever increasing role in the sustainability of organisations, none more so than in the fast paced ICT sector which also faces a critical skills gap. Investing in human capital, managing people to improve retention and engagement, and maximising the value of your people resources has never been more important, nor challenging.
The key questions to consider are: Do you know your organisation's ability to learn and innovate? Do you understand how talent innovation can improve business performance? Can you identify the 'people factors' that will drive growth and value; and why a range of capabilities, experiences and diverse perspectives is key to embracing fresh opportunities, delivering improved customer experiences and relishing new challenges? Comms Vision will seek to address these complex questions and provide important insights into how you can culturally align people-focused priorities with your own long-term business goals.
Disruption and opportunity in the connectivity space
Comms Vision will also explore developments in Fibre and 5G and acknowledge the grand satellite projects of Mega Disrupters. For example, SpaceX is to locate Starlink ground stations within Google data centres, enabling the delivery of enterprise applications to virtually any location. The service is expected to be available later this year. SpaceX President and Chief Operating Officer Gwynne Shotwell observed: "Combining Starlink's high-speed, low-latency broadband with Google's infrastructure provides global organisations with the secure and fast connection that modern organisations expect."
Nor is that all: The UK Government's acquisition of satellite network OneWeb provides more food for thought. Is it time to look beyond the boundaries of our immediate experience and view the future from altitude, and ask searching questions? Could the Tech Giants, those truly global brands, utterly transform business communications? Comms Vision will bring clarity to developments in the revolutionary superfast connectivity space, and examine the potential challenges and opportunities that lie ahead.
Capitalising on ten tech sector shifts
No sector is immune from business model revolutions such as those brought about by Über, Netflix, Amazon and Covid-19. To fully capitalise on what is currently happening in the comms sector it is important to understand the big trends that are driving the potential for big shifts in the channel's tectonic plates.
The Connectivity Shift: Fibre, 5G and the grand satellite projects of Mega Disrupters. What does it all mean?
The Super Disruptor Shift: The influence of tech giants creating market alternatives continues to strengthen.
Customer Value and the Shift to Data: New business models are emerging that prioritise value in data rather than the product or service. Capturing future customer value and making the transition to become data-driven solutions providers is key.
The Digital Procurement Shift: The digitisation of the path to purchase and rise of disruptive retail models have emerged as consumers fully embrace digital. The influence of consumer purchasing behaviour on future business models in the channel is a key determining factor.
The Innovation Shift: Companies are turning to tech-enabled innovation with growth, relevancy and competitiveness their top objectives – and many will seek help from external partners. Is your business Innovation Ready?
The Customer Experience Shift: Value is no longer created in the transaction, but the engagement and interaction.
The Shift from Products to Services: Value is also created in the consultation, the problems solved, and a cloud services-based subscription model. Speed of execution and completeness of action are also key considerations
The Personalisation Shift: The rise of personalisation will attract ICT spend as buyers shift towards customised products and experiences underpinned by AI and other developing and intelligent technologies.
The Generation Z Shift: Collaboration and social networking technology in the workplace is highly valued.
The Shift to Big Button Comms: Could easy to source, deploy and consume business grade ICT services provided by tech Titans eventually turn conventional provision on its head, increasing the threat of disintermediation as end users get more tech and application savvy?
Comms Vision 2021 will explore all of these market shifts and more – visit www.commsvision.com
It takes Vision to be a leader
Comms Vision (10th-12th November 2021, Gleneagles Hotel) is the leading annual leadership forum for CEO, MD and CTO delegates making up the major league of the UK reseller community. Places are limited and by invitation: If you would like to join us this year, please register your interest to attend at www.commsvision.com