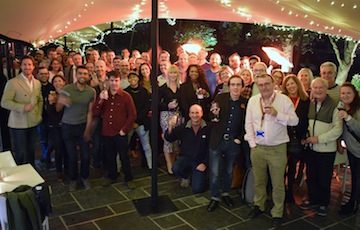 Union Street Technologies MD Tony Cook outlined two key strategic objectives during the company's annual get-together held at Richmond's Bingham Hotel.
Addressing almost 90 staff members Cook spotlighted upcoming developments to the aBILLity billing platform and discussed plans to drive deployment of aBILLity's intuitive web client app which boasts an enhanced user interface and provides quick access to much of the functionality.
Cook also lifted the curtain on plans to migrate more on-premise implementations of aBILLity to Union Street's hosted platform, with new incentives introduced for partners to make the move.
"Over half of aBILLity partners have made the switch to cloud hosted billing, and circa 80% of new partners go directly onto our Cloud Hosted Billing service - a cost-effective SaaS solution powered by Microsoft Azure," stated Vincent Disneur, Head of Sales and Marketing. "In regard to aBILLity's web client, our goal is to make this the primary interface for the platform by 2019."
Disneur noted that Union Street's 'streets Ahead' initiative, introduced a year ago, has helped to shape the company's culture and values, most notably in the sphere of software development and the customer experience.
"The Streets Ahead initiative also increases employee engagement through management feedback, a recognition and reward programme and a range of staff benefits that improve the working environment."