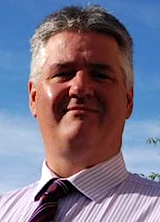 Talk Straight is certain to blip larger on reseller radar screens following the roll out of a £200 incentive scheme for new and existing channel partners on the sale of leased lines, EoFTTC or EFM.
Established in 2007 Talk Straight belongs to a select group of Fortinet Managed Security Service Providers enabling it to offer additional benefits such as a cloud-based multi-threat protection service.
Talk Straight's incoming Partner Manager Rod Lawrence (pictured) has 15 years channel experience under his belt and he is keen to emphasise the company's service delivery and provisioning levels as stand-out attributes. "We are determined to set ourselves apart from other companies," he said.
Service Delivery Manager Sara Arrowsmith also prioritises the implementation of services to deadlines and key to success is Talk Straight's collaborative relationships with its suppliers.
"It's not always straight forward to juggle the companies we rely on to meet delivery deadlines," she stated. "But our close relationships with supplier partners and our proactive service delivery team ensure that service delivery is fully optimised."
This formula for achieving success has been recognised by ISPA which crowned Talk Straight with its Best Business Use of Cloud 2014 accolade.
The £200 incentive scheme runs until the end of January and deals must be based on a minimum 36 month contract. Incentives are payable on installation of lines and there is no limit to how many rewards Talk Straight will offer per company or person.