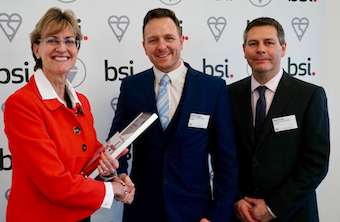 Cheltenham-based PSU Technology Group is celebrating 20 years of BSI accreditation.
PSU's Technical Director Nigel Davies and Director of Service & Operations Dan Bridges travelled to BSI's offices in London to collect the new ISO 9001:2015 certificate from Anne Scorey, BSI's UK Managing Director, who also handed over a plaque to mark the 20 year milestone.
Davies said: "Only 35% of UK companies have successfully completed the 2015 standard so far, so this is a particularly proud achievement for us.
"Our quality management system is at the heart of our business and influences all aspects of what we do, so it was a wonderful surprise to also receive recognition for our 20 years of dedication to excellence in quality management."
Pictured: Dan Bridges and Nigel Davies with BSI's UK Managing Director Anne Scorey