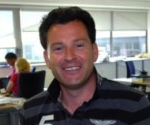 Serial acquirer Elitetele.com has bagged its 18th takeover target since 2008, this time bolstering its nationwide support and maintenance capabilities having snapped up long-term business partner Support Span Group. The move builds on the addition of several system support contracts won by Elite in 2017 which were sub-contracted to Support Span.
"It made perfect sense to acquire Support Span," stated Elitetele.com founder Matt Newing (pictured). "We've brought on board an experienced engineering team, together with account managers and contract managers."
Rick Pearce, founder and MD of Support Span Group, added: "The combined group will now be able to qualify for Mitel Gold status. Our customers will also have access to Elite's UC solutions and IT services."
The deal boosts Elite's staff numbers by 13 to over 180 located in seven locations.
Initially Support Span will be dual branded Elitetele.com and later operate under the Elite brand.
Elite Group's CFO Rob Burbidge and Commercial Director Alex Cliffe led the acquisition. They are currently looking for IT businesses to buy.