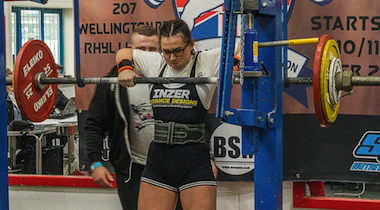 PRS Telecom Marketing Executive Abbie Morris has qualified for this year's British Power Lifting Championships in style having broken four British records at the ABPU/BPU Power Lifting North Wales qualifier competition.
These records are measured according to age and weight categories, with Abbie competing at 67.5kg in the T3 category at 19 years old.
The records she set were squat 120kg, bench press 60kg, and deadlift 120kg, making an overall total record of 300kg.
"I started powerlifting about two and a half years ago and started competing at the beginning of 2017," she stated.
"It's a great sport that I would recommend to anyone for health, fitness and the sense of achievement you enjoy.
"I now aim to compete at the ABPU British finals at Body Power 2018 in May then qualify again next year to compete in the European Finals 2019."